The world's largest collection of pyramids, inscribed in the Guinness Record Book
1620 exhibits.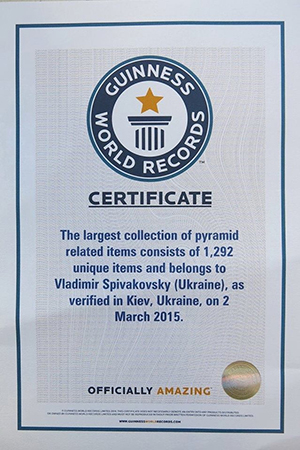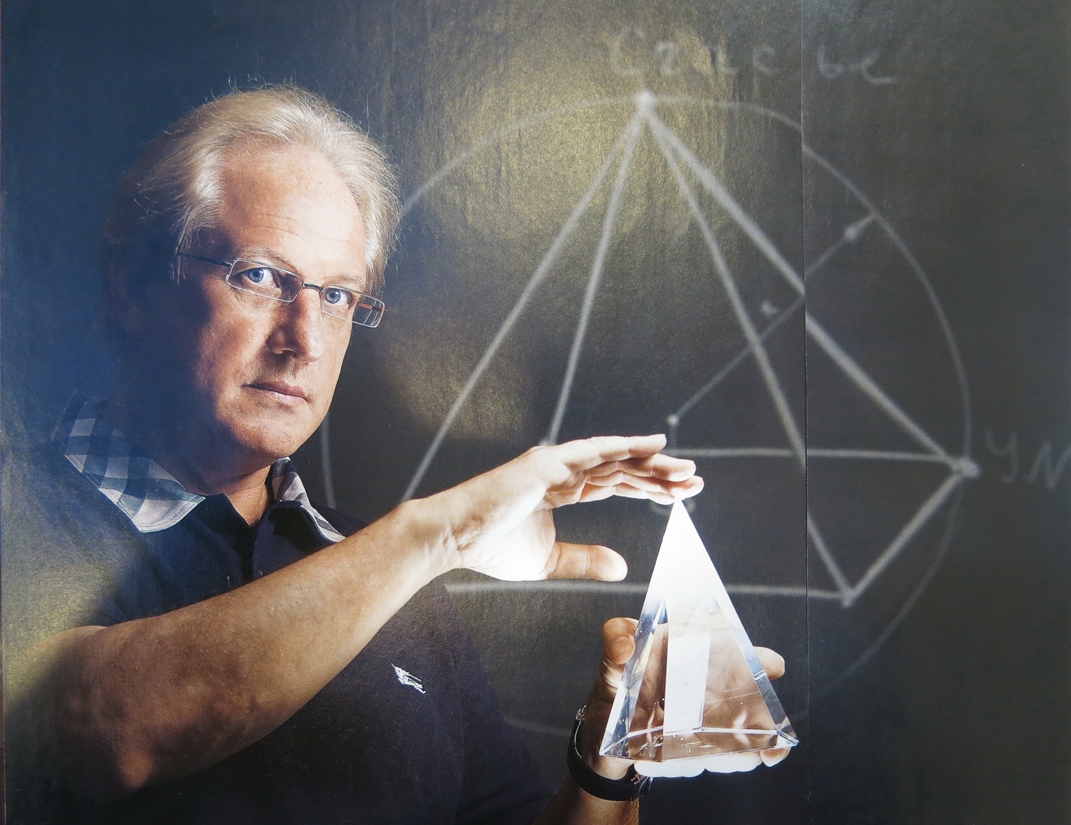 The Story about appearence and enlargement of the biggest in the world Collection of Pyramids.
Unbelievable story
For thousands of years pyramids have fascinated people. They contain eternal secrets, magic forces and the source of inspiration. Vladimir Spivakovsky is a man who's interest in pyramids has turned into a unique hobby.
The story began 25 years ago when the International Bridge Foundation have visited Kiev (Ukraine) and had fruitful meetings and a wonderful journey along the Dnipro-river and Black Sea with young Ukrainian businesspersons. It was a fantastic time of establishing closer links between nations, people, cultures, businesses, researches, educators and charity foundations.
The results of this visit and mutual work were so fascinating that they decided to continue it in the USA. Half a year later a group of Ukrainians with Vladimir Spivakovsky, now the president of the International Corporation «Grand» (Ukraine), was invited by IBF to Texas.
The IBF leader Patricia Sprowls (van Hoecke) organized 3-4 meetings daily in different cities with Congressmen, executives, volunteers, churches, businessmen, mayors, schools, universities, etc. The IBF Team of 30 wonderful people made their best to reach the top results in "US-Ukraine: perspectives of cooperation" Project.
Time was flying quickly, and six weeks of this unprecedented international project were coming to the end. Patricia decided to present a memory gift to Vladimir, but didn't know what it should be. Therefore, after some discussions, the IBF team decided to pass this choice to Vladimir. They suggested him to go together to the mall and chose whatever he wants.
Vladimir was confused, but one day the several members of the team took him to the mall. He was looking over the shelves and had no idea what to look for. Then he saw a watch section and decided that it may be the decision.
He chose the watch Fossil with nacreous bottom, which was very nice and looked very memorable. The deal was done, they went back to the IBF office, where Patricia solemnly presented the gift, not even opening the box and not knowing what was inside. Vladimir flew home.
Few years passed. One day, being presenting at too boring and long last bureaucrat meeting in Ukraine, Vladimir even felt to sleep, dropping his head on the arm, and unexpectedly casted a glance on the watch… The view was not usual, because it was in different, horizontal projection. Suddenly he discovered that the glass cover was not smooth. It had a pyramid shape.
The sleeping head awoke immediately. The first thought was philosophical: Is there any connection with the Great Cheops Pyramid, one of the Wonders of the world? Does the watch mean something outstanding when he wears it on the hand? Maybe it is an amulet…
Next thought was about nearest past. Were these few years lucky and happy? The answer was positive. It was good years for him, for his businesses, family and wealth. And the last question was: maybe all these achievements occurred owing to this amulet?
The next week he had to go abroad, and when he saw the Pyramid in the shop, he bought it. Then one more, and more, and more. Since that time, it became a passion. Wherever he travelled, first thing he looked around for were the Pyramids. The collection replenished with high speed.
Now it contains 1475 items. It is the biggest collection of Pyramids in the world. It includes souvenirs, domestic articles, perfumery, knick-knackery, watches, toys, candles, lighters, and even tea bags.
«By the way, lighters and candles most exactly represent the etymology of the word «pyramid». In old Greek -»pyros» – means fire, «midos» – middle. So the whole meaning is "Inside Blaming Fire» – relates Spivakovsky about his unusual hobby.
Since then Vladimir has visited more than 100 countries and brought home pyramids from almost all of them. The collection features pyramid-shaped articles made of various materials: from precious and semiprecious stones, crystal, stained glass, gold, silver, amber, metal, plastic, paper, wood.
Each pyramid has its description that includes size, material, color, price, story of its appearance.
From Australia he brought a crystal-diamond pyramid, that was an award to one Czech bicycle Olympic Champion. He left staying as a dissident in Australia, but then could not afford his living and sold it to pawnshop. So, three decades later it moved to Vladimir's collection.
There is a pyramid from Cape Canaveral, made of a special glass (very heavy, with plumbum), the spaceships windows are manufactured from it.
There are also pyramids from camel and elephant bones, moonstone. One of the famous pyramids contains grains and coins. "That's all what do people need", smiles Vladimir: food&money.
One day, while examining an old gold mine he found an ancient lantern in a pyramid form. From England, he always brings tea in pyramidal bags. His collection also includes music, books and pictures the authors of which were inspired by pyramids.
Spivakovsky can not say that one or another pyramid is more precious to him than others. Despite their cost or age they are all equally dear to him.
— What do you think, what is this? – asks Vladimir, handing big triangle construction. This is Orange Stand looking like a pyramid; I bought it for $1 in one village. And this piece is a cut pyramid – a Holland music box.
About the most beautiful crystal pyramid Swarovsky he tells a real conspire story, when he was nearly arrested. He bought it in Oslo and hardly passed the custom where this crystal was recognizes as a diamond of very big size. It is extremely expensive, so you have to declare it. The same suspicion took place repeated at the transit Amsterdam airport and at last in Kiev's custom. Everywhere the customers applied the crystal to the fingers saying: "Not a bad diamond"…
Each exhibit is carefully described in a special catalogue: length, height, width, weight, color, material, price and an appearance story. Each pyramid has its character, specific features and impact.
There is a well-known sentence hanging on the wall: "Everything is afraid of Time. And Time is afraid of Pyramids".
Spivakovsky is not a just a cabinet researcher. He is an author, who has written seven famous and popular books. For instance, "Education Blast" about Future Education System, which was awarded as the Book of the Year. He established the first private school in Ukraine. His businesses are prosperous; he travels a lot, having meetings with historians, archeologists, ministries, scientists, artists, and other famous people.
Magic power of pyramids.
In ancient times, people were certain that the pyramids could bring them closer to God. Some contemporary scientists think that pyramids accumulate cosmic energy. Although Spivakovsky has no esoteric attitude to pyramids. He admits that they «feed» him with creativity and improve his mood.
His pyramids always surround him, because one part of the collection is at home, and another in the office. « Looking at pyramids that exist for the thousands years you understand, that all your small daily troubles are nothing compared to eternity».
He plans to open a Museum of Pyramids somewhere and is sure this undertaking will be a success.
…In this Museum, the special space will be dedicated to the Very First Item, the Fossil Watch. It is significant, that this wonderful Collection was inspired by Patricia Sprowls, who's wide soul and kind heart make miracles happen. Actually, she became the Founder of the Collection, who laid the first brick into its foundation. Could she imagine what could have happen to an ordinary gift with such unusual consequences?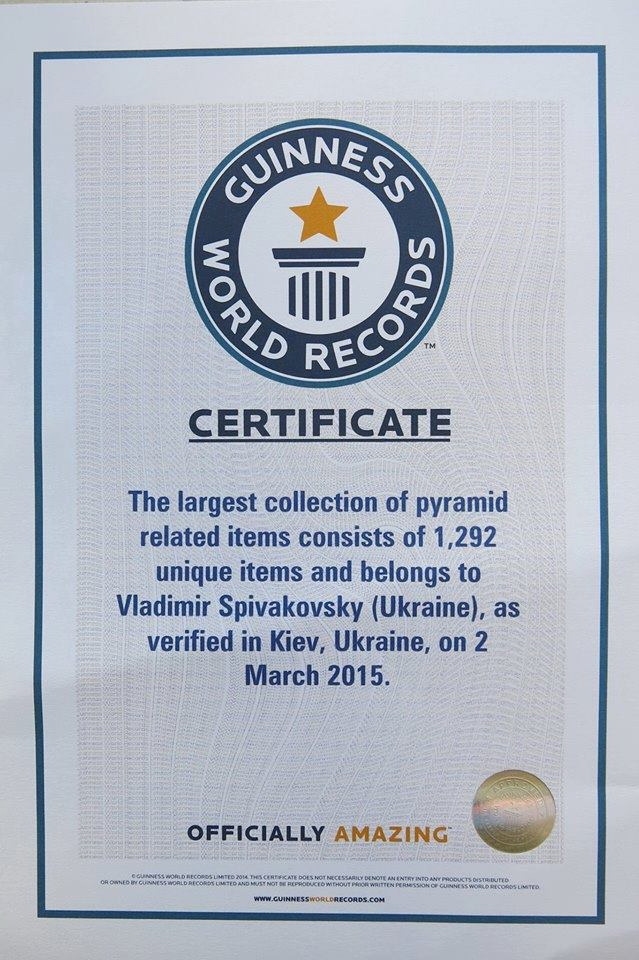 Vladimir Spivakovsky. The Collection of Pyramids.
The biggest in the world. 1475 items.