The world's largest seal
(record of the Guinness Book of Records)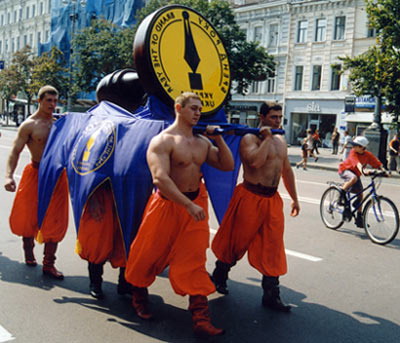 The biggest seal in the world is real.
Dimensions are 1 meter in diameter; 1.3 meters in height, weight — 102.6 kg. It is made of valuable kinds of wood: walnut, cherry, boxwood. For this seal, Vladimir Spivakovsky received an award from the Guinness Book of Records on August 26, 2004. This seal is shown during the annual Brands Parades in Kyiv on Khreshchatyk. The companies that have become national brands in Ukraine make an impression of the seal on their flags by means of a car tow truck, which lifts the seal and puts an impression with a stamp, which is previously inked.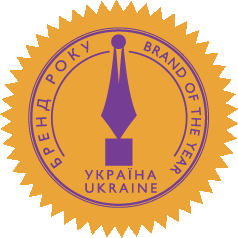 I've been waiting for this day for 9 years. And finally I received a notification from the Guinness Book of Records, from their headquarters in London. They did publish it!
Here is a chronicle of the events.
In 1999, when I came from America, where the word «brand» was seen in each newspaper hundreds of times, I was surprised to find that this word was not known in Ukraine. And if someone said it, they did not know how to spell it. And the interlocutors even asked to pronounce it again, confusing it with other words that sound similar.
That`s just where I was overjoyed. Since no one knows this, it means that you can organize this business and become the first (and even a monopolist for a while). Thus, the all-Ukrainian competition "Brand of the Year of Ukraine" was born.
But to make everyone learn about it quickly, I had to come up with something unusual. And it took not a couple of nights to come up with something unusual and a couple of weeks to implement it, namely, to produce the world's largest seal for getting into the Guinness Book of Records. And then the wave of PR mainstream had to pick up this new business and promote it.
And now the seal was made, the annual competitions started, and in 2002 I submitted an official application to London Headquarters. In 2004 it was confirmed that they had conducted a patent search and were happy to admit that no one except me had ever come up with such ideas as the Super Seal. And they sent the Diploma-Certificate with the record.
I must tell you that when applying, you are forced to sign a 12-page contract, in which there are two unique items. The first one — if they confirm the record, I lose information rights to this seal and all further actions with it shall be only with their permission. I was indignant: how come!? This is my seal! And their sir, tranquilly smoking a pipe, said slowly: Mister, now your Seal does not belong to you, but to humanity!
Well, then, okay, I agreed.
And the second item: they give a diploma about the record, but do not guarantee that they will publish it in their famous Book. Well, the book is not made of rubber and there are so many different eccentrics with hundreds of thousands of records.
I had to agree to this condition. And they also send warning letters not to disturb them with the questions about where and when it will be printed. It is sort of, say thank you, that the Diploma of the record has been given to you in general.
And so in 2004 the Diploma of the record was sent to me, but the meticulous people around still asked with barely hidden sarcasm: «And is it written in the Book about your seal? Can we have a look?».
What can I say? I first bought these Books, to see if they had published about it, but then in a couple of years I stopped buying them. Why to worry myself sick? Never mind.
And yesterday I received a notification that my famous seal was mentioned in the Guinness Book of Records for 2010 on page 122. And not just in a book, but in a special publication devoted to the results of the records for the first decade of this century.
I called them, thanked them, despite the fact that it had taken so long. And they say: «But you got into the record of the decade! You have a super record! «.
Well, what can you object. Now I'm sitting here, writing a blog, and philosophically contemplate that even for such a simple thing as being mentioned in the Guinness Book of Records, it was necessary to have patience for 9 years.
And I even forgave them that in the book they called the seal «The biggest rubber stamp in the world». I went and bought all the copies of this wonderful and now so symbolic book in the store.
Then I returned home, and put another plus sign in the cherished file, where the lists of my personal moments of happiness are hidden. Now there are 492 of them.
Technical details.
It is the biggest seal in the world. Height 130 cm, diameter 100 cm, weight 102.6 kg, made of valuable wood (boxwood, walnut, cherry). It has been repeatedly used for impressions on large sheets of tissue and paper when awarding the leading brand companies, as well as at mass marches along the central streets of Kyiv.
More details about the Seal are written in the book «Two-ways of Spivakovsky».
Vladimir Spivakovsky gives practical recommendations on how to choose priorities in life, multiply business with the help of combinatorial two-way theory, find non-standard solutions for the result in the field of advanced Internet, brand promotion, creative journalism, high standard education systems and successful start-ups.