Spivakovsky Vladimir Mikhailovich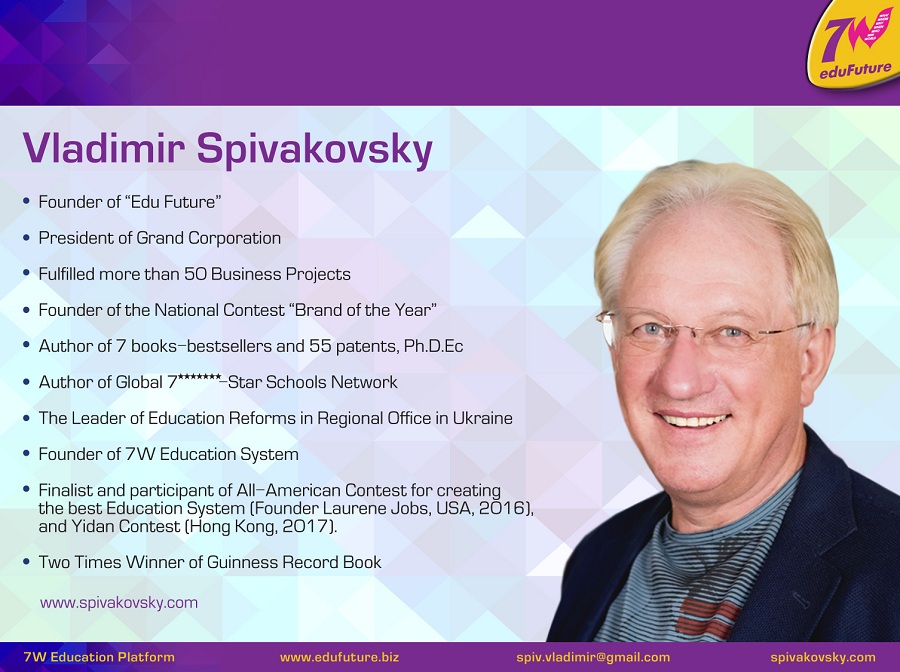 He was born on July 16, 1952.
Education:
Higher, in 1973 he graduated from Odessa Polytechnic Institute, Faculty of Economics. Candidate of Economic Sciences. He defended his thesis in 1980 in the Academy of Sciences of Ukraine, specializing in: «Development and deployment of the productive forces of Ukraine.»
Fluent in English.
Career:
1973 – 1975 – Black Sea Shipping Company, programmer
1975 – 1981 – Academy of Sciences of Ukraine, post-graduate student, junior researcher
1981 – 1983 – Kyiv Civil Engineering Institute, Associate Professor
1983 – 1988 – Head of the Economic Department of Scientific-Research Institute
1988 – 1991 – Director General of the joint Soviet-Luxembourg enterprise «Eurodeal»
С 1991 – President of International Corporation «Grand».
Hobbies: collecting. Twice the record holder of the Guinness Book of Records for the world's largest collection of pyramids and for the world's largest seal.
Article in Forbes magazine
Prehistory.
By popular request of Forbes readers about the situation in Ukraine and about investment opportunities in this country, about the truth and fiction, the editorial team sent a team of journalists. They identified 4 companies that symbolize 17 years of Ukrainian independent economy. Among these four there was a private school «Grand» and its founder Vladimir Spivakovsky.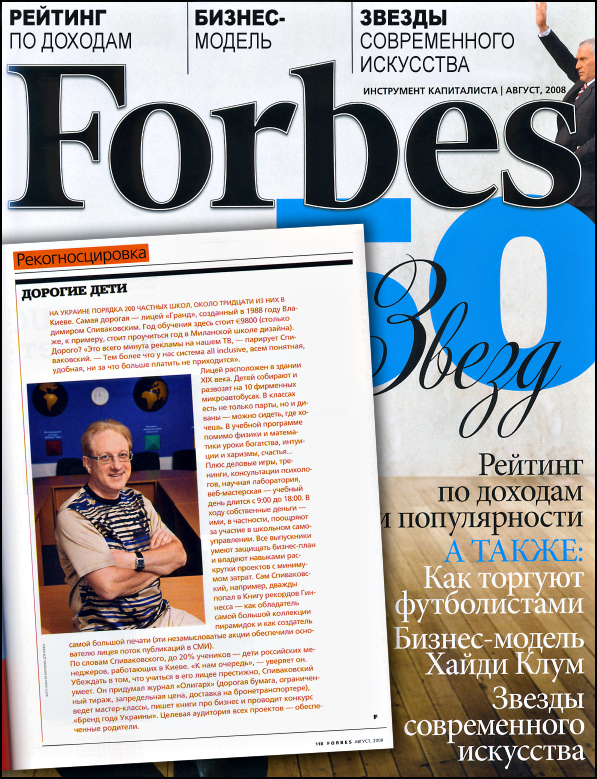 Strategist
He is not a teacher, but he created an effective education system. In the 21st century, he approached the education system in the same way as talented engineers begin to create the most perfect products. And he did it carefully and extremely effectively. He keeps pace with the digital generation. His radical ideas have changed the content of education in the advanced educational institutions of the country and abroad. He is perfectly educated. He writes books, the rights to which are bought by other countries. He delivers lectures abroad to a full house. He does not wear ties, believing that they prevent the head from thinking. He has become rich and generously helps others to achieve success. «You'll be lucky,» he says … «Only you need to know the code.»
Readers are puzzled why he writes in his books: «Do not go to school». Because he has the answer: «if you want to know what the cosine of 45 degrees is equal to, the magnesium valence and what the formula of Gay-Lussac's law is, you must necessarily go to school, because it will not be taught anywhere else and never again. But if you have different goals in your life, namely, to become happy and rich, to achieve recognition and well-being, then the school does not have such a task and such subjects … Alas, this is taught in some other places. It's time to face those values that are really important to people».
Aphorisms, intuition, multi-pass logic, magnetism, unique charisma of Vladimir Spivakovsky not just fascinate people, but also increase their potential (financial).
«It's not analysts who drive the world,» he says, «but» Concentrators. «
Spivakovsky himself is an extraordinary person, twice the record holder of the Guinness Book of Records — as the owner of the world's largest collection of pyramids and as the creator of the largest seal (these simple things provide him with an endless stream of publications in the media).
In an effort to improve dramatically the education system in the world, he has created an innovative educational platform 7W on the site www.edufuture.biz, where students from more than 30 countries are studying (5 million visits per month) and who call this system 7 wonders of education. The core is interactive case lessons, patented in the Library of Congress.
He has invented «Oligarch» magazine (expensive paper, limited circulation, beyond all reason price, delivery on an armored personnel carrier). He conducts master classes, writes books about business, publishes popular directories and holds the national contest «The Brand of the Year of Ukraine».
F.